Published by Eric Bogatin on 11 Oct 2011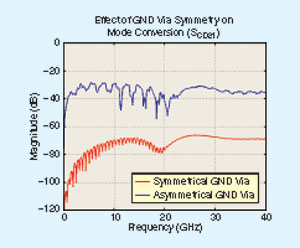 The mode converted signal when a differential signal transitions between two return planes, with an adjacent return via symmetrical located and asymmetrically located near the differential vias, taken from Bruce's Design Tip.

If you missed Bruce Archambeault's Design Tip, "Via Asymmetry Causes Common Mode
Conversion from Differential Mode Signals" in the Winter 2011 issue of the IEEE EMC Society Newsletter, you'll want to be sure to check it out online.
Bruce summarizes in a short article, the counter intuitive design guideline for return vias adjacent to single-ended and differential vias when the signal transitions from one return plane to another return plane.
When a single-ended signal passes through a 2-plane-cavity and changes its return plane, the proximity of a return via between the two planes determines the energy coupled into the 2-plane-cavity. The energy coupled into the planes is what contributes to high frequency noise in the cavity and via to via coupling between all signals transitioning through the cavity.
Bruce shows through simulation, that exactly as you would expect, the closer the return via is to the signal via, the less noise is coupled into the cavity. He recommends return vias be located as close to the single-ended signal via as practical.
Now consider a differential via transitioning through the 2-plane-cavity. If there were no return via, and the signal was a pure differential signal, there would be little energy coupled into the cavity and little mode conversion.
But, he points out, in the real world, there will always be some common signal associated with the differential pair and to manage the common signal noise it injects in the cavity, it's always a good design guideline to place an adjacent return via between the planes. However, if the return via is asymmetric, for example, in-line with the two signal vias, then the noise injected in the cavity gets higher, the closer the return via is. It is counter intuitive that, if the return via is asymmetrically located to the two differential vias, moving it farther away is better!
Of course, the correct design guideline is that the return via should be placed symmetrically in proximity to the two differential signal vias. Ideally, it should be located somewhere on the line that bisects the two differential vias. In this case, closer is better and the amount of mode conversion can be kept very small. Bruce shows the mode conversion can be reduced by as much as 40 dB just by moving the return via to a symmetrical position. 
This is a lot of bang for a very small buck.